Anime Scene 8

Priscilla attacks Teresa

FUNimation title

Awakening[1]

Title

Erwachen[2] (de), Éveil[3] (fr), Metamorfosi[4] (Awakening it)

Original title

覚醒[5] Kakusei (Awakening)

New character

N/A

Quote

I never realized it would feel this good.

Region

Locale

Unnamed village, plateau

Manga arc

Next scene

Previous scene
The purge team surrounds Teresa on a bridge. Priscilla releases her Yoma power.
The team attacks, but Teresa eventually cuts down all four warriors, leaving them prostrate and bleeding in the street. Teresa tells Clare to get their things and they leave town.



Bringing Teresa's things

Enraged by her defeat, Priscilla releases even more Yoma energy, which translates into Yoma power, bulking up her body. Thus empowered, Priscilla pursues Teresa.
The Yoma-like Priscilla catches up with Teresa and Clare. Despite her Yoma power, Priscilla still cannot defeat Teresa.
Ilena, Sophia and Noel arrive and witness the fight.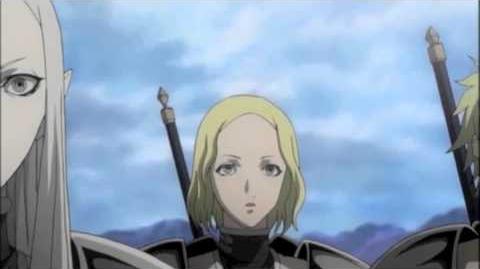 Priscilla attacks Teresa


Priscilla releases too much energy and asks to be killed. But Teresa stops her Yoma energy release, lowers her cover and hesitates—Priscilla cuts off Teresa's hands, then beheads her.
Priscilla releases all her Yoma Energy. She becomes an awakened being, sprouting wings and a horn on her forehead.
The Purge team attacks Priscilla, but she cuts off Ilena's left arm. When Noel and Sophia attack on either side, Priscilla's extensible claws kill them both. Priscilla gratuitously slashes at Ilena, who goes down.
Priscilla walks past Clare, ignoring her and flies away to parts unknown.
Clare gets up and picks up Teresa's head. Clare cradles it as she kneels on the plateau floor, all alone.
Tankōbon Claymore volumes cited are VIZ Media (en-us) editions, unless otherwise noted. Manga scenes (chapters) not yet translated cite Shueisha tankōbon (ja) editions. Manga scenes not yet published in tankōbon form cite Jump SQ (ja) editions. Fragments of Silver Omnibus (総集編 銀の断章 Gin no Danshou) 1–3, Shueisha, are only available in Japanese. Anime scenes (episodes) cited are FUNimation (en-us) editions, unless otherwise noted.
Community content is available under
CC-BY-SA
unless otherwise noted.