Anime Scene 26

Farewell

FUNimation title

To the Successors[1]

Variant

Zu den Nachfolgern[2] (de), Vers les successeurs[3] (fr), Coloro che verranno[4] (it)

Original title

受け継ぐものへ[5] Ta ga tame ni (To the Inheritors)

New character

N/A

Quote

There are those who want you to live.[6]

Region

Locale

Volcano[8]

Anime arc

Priscilla–Clare (original to anime)

Previous scene

First scene
Flashbacks—Miria's revealing Clare's past with Teresa, Deneve and Helen realizing that Clare is trying to avenge the death of Teresa.
Priscilla continues to confuse Clare with the Yoma that killed her family, as well as with Teresa. Priscilla fires countless Yoma rods at Clare, who in her evolving awakened form, deflects.
Despite Clare's increasing Yoma power, Priscilla still dominates the fight. She grabs Clare and drops her into the volcano interior.
But flashbacks of Teresa revive Clare, whose awakened form evolves even further. She once again challenges Priscilla, who now fails to keep up.
Priscilla, hit with multiple counterattacks, plunges inside the volcano. Priscilla reverts to her human form. As Clare approaches, Priscilla hallucinates her as Teresa.



Raki stops beheading

But before Clare can behead Priscilla, Raki stops her. As Clare loses control of her body, Jean intervenes and pulls Raki to safety. But Clare's mandibles penetrate Jean.
Jean, now mortally wounded, uses the last of her life force to bring Clare back to normal. In a vortex of Yoma power, Jean is left dead, but Clare is back to normal.
In an unexpected move, Isley snatches up Priscilla. He calls for a truce and vanishes.
Later in a Pieta church, Galatea remotely observes the combat between Priscilla and Clare from the interior of a Pieta church, its stained-glass window depicting the goddesses Teresa and Clare.[9]
Rubel suddenly appears and asks if Clare is still alive. Galatea falsely reports that Clare's Yoma aura is undetectable. As Rubel leaves, thinking Clare is dead, Galatea silently wishes Clare good luck.[10]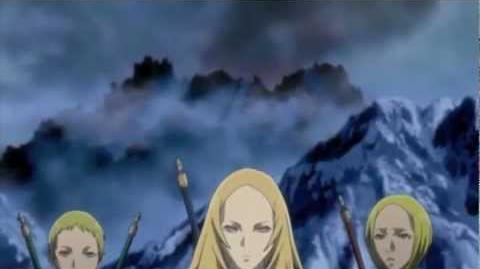 Miria, Deneve and Helen

Miria, Deneve and Helen leave Clare and Raki at the volcano. The three comrades split up, Deneve and Helen going one way, and Miria going another. Miria plans to live among the civilian population, gathering evidence against the Organization.Back at the volcano, Clare grieves at the grave of Jean. But Clare gets up. Finally, she asks if Raki wishes to accompany her on her life's journey, yet undetermined. Which he does.

As Clare and Raki climb down the volcano, she turns to take one last look. Final iconic image—Teresa's ghost, standing by Jean's grave-mark, bidding farewell.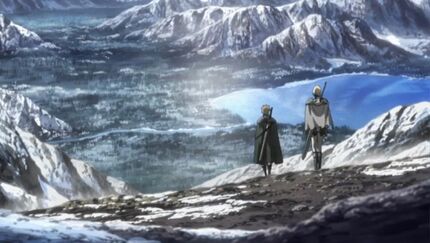 Leaving the volcano

Tankōbon Claymore volumes cited are VIZ Media (en-us) editions, unless otherwise noted. Manga scenes (chapters) not yet translated cite Shueisha tankōbon (ja) editions. Manga scenes not yet published in tankōbon form cite Jump SQ (ja) editions. Fragments of Silver Omnibus (総集編 銀の断章 Gin no Danshou) 1–3, Shueisha, are only available in Japanese. Anime scenes (episodes) cited are FUNimation (en-us) editions, unless otherwise noted.
Community content is available under
CC-BY-SA
unless otherwise noted.