Anime Scene 20

Undine takes up friend's sword

FUNimation title

The Carnage in the North III[1]

Variant

Der Krieg im Norden III[2] (de), La Guerre du Nord (Seconde Partie)[3] (fr), La guerra del nord - III[4] (it)

Original title

北の戦乱 III[5] Kita no senran III (Northern War III)

New character

Rigaldo

Quote

There's nothing wrong with wanting to live. What happened in the past doesn't matter. We're all still humans, you know.

Region

Locale

Pieta[7]

Manga arc

Next scene

Previous scene
As Priscilla clings to Raki, Isley brings horses. Refugees from Pieta tell Isley and Raki that Claymore warriors are in town, fighting.
Since Raki is also heading to Pieta, Isley invites him to accompany them south.
Raki tells Isley about Clare. After seeing Isley's sword moves, Raki ask Isley to teach him how to sword-fight.
Back in Pieta, Deneve goes to the storeroom. There she discovers Undine's true form—a slender body, opposite of the one everyone thinks is real.
Flora asks Clare to accompany her.
Meanwhile, Deneve guesses the truth of Undine's friend. But Deneve tells Undine about how Deneve's older sister sacrificed her life for Deneve.
When Deneve became a warrior, she fought recklessly, till Helen told her to forget the past and her guilt over her sister's death. Deneve promises to help Undine do whatever she cannot do for herself.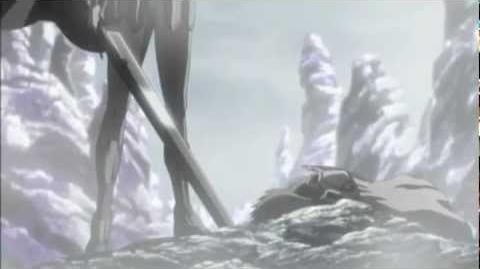 Undine's friend

On the outskirts of the village, Jean interferes with the sword-match between Flora and Clare. Clare then admits to Flora and Jean that the right arm belongs to Ilena. Clare summarizes her story from the death of Teresa to her seeking the head of Priscilla.
At Isley's camp, Raki collapses exhausted from sword practice. As Isley speaks to Priscilla, he detects the presence of a visitor.



Raki with sword

Beyond the camp, a man waits for Isley—Rigaldo. He reports the news from Pieta. Isley orders the Northern Army, 27 Awakened Beings, to destroy all life in Pieta.
Later in Pieta, the Claymore warriors sense the Army's approach.
With Isley's party traveling to Pieta, the anime storyline further diverges from the manga
In the manga, Isley's party heads south to Mucha after the Battle of the North
The sequence where Undine stands over her friend does not appear in the manga
In the manga, Clare only reveals the story of her life in Scene 130
Tankōbon Claymore volumes cited are VIZ Media (en-us) editions, unless otherwise noted. Manga scenes (chapters) not yet translated cite Shueisha tankōbon (ja) editions. Manga scenes not yet published in tankōbon form cite Jump SQ (ja) editions. Fragments of Silver Omnibus (総集編 銀の断章 Gin no Danshou) 1–3, Shueisha, are only available in Japanese. Anime scenes (episodes) cited are FUNimation (en-us) editions, unless otherwise noted.
Community content is available under
CC-BY-SA
unless otherwise noted.