Anime Scene 19

Insectile awakened

FUNimation title

The Carnage in the North II[1]

Variant

Der Krieg im Norden II[2] (de), La Guerre du Nord (Seconde Partie)[3] (fr), La guerra del nord - II[4] (it)

Original title

北の戦乱 II[5] Kita no senran II (Northern War II)

New character

Isley (unnamed)

Quote

Come along then ... Priscilla.

Region

Locale

Pieta[7]

Manga arc

Next scene

Previous scene
Flashbacks—Clare and Jean confronted by Rubel in the forest, the fate of the Pieta hunt, the formation of teams by Miria, the cavern reunion of the Paburo hunt.
Team Flora and Team Undine confront the Armadillo awakened. He fires extensible quills, bring down six warriors. Undine does a full frontal attack.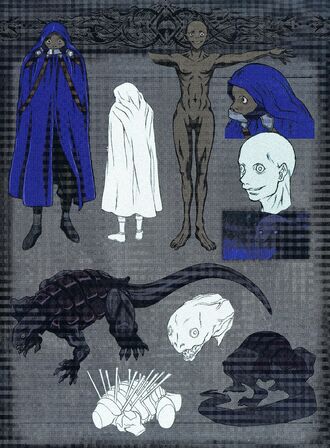 Studio profiles of the Armadillo awakened

But Armadillo's Yoma energy control forces Undine to cut her own throat. But when she successfully resists, he hits her with several quills. Deneve then kicks Undine back to safety.
Deneve and Clare now attack, but he immobilizes them.
Veronica and Cynthia distract the Insectile awakened, while Jean twists her arm, preparing for a Drill Sword attack.
Helen uses her extensible arm to bind up his legs. Jean attacks with a propeller variant of Drill Sword, severing his legs, rendering him immobile and defenseless. Veronica and Cynthia then chop up Insectile's torso.



Warriors fight Insectile
Deneve and Clare awaken, a vortex of Yoma energy swirling about. The Armadillo thinks there is no reverting back for them, but in half-awakened form they attack. Deneve halfway decapitates him but is unable to push further down. Undine helps by using her sword to Deneve's all the way through.
The disembodied head escapes skyward, taking control of two double-digit warriors, Wendy and Yuliana. Before they can decapitate each other, Flora and Clare chop up the head.
Clare panics when she realizes that Miria is alone with her team. But her comrades are unconcerned, as Miria is a No. 6.
Elsewhere in the village, Miria decapitates the head of the Dreadlock awakened. By the time Clare and her comrades arrive, the combat is over. Tabitha carries Yuma, who lost her left arm.
The battle group reassembled, Undine complains that everyone is on a suicide mission. After Undine heads for the storeroom, Miria, Deneve, Helen and Clare acknowledge the truth among themselves. Flora eavesdrops, displeased.
In a graveyard, Raki searches among the Claymore swords, hoping not to find Clare's symbol. Relieved she is not buried here, he moves through the ruined village. He spots a young girl about to be hit by falling debris. He pushes her out of harms-way. She clings to him.



Raki in warrior graveyard

A man—Isley—finds the pair. Isley says that the girl seldom becomes attached to anyone. He asks Raki to accompany the young girl, who he calls Priscilla.
With the sequence in the graveyard, the anime storyline begins to diverge from manga
In the manga, Clarice finds the graveyard after the 7-year timeskip
Swords used as grave-marks is a common trope found in manga,[8] movies and games. See Field of Blades
Tankōbon Claymore volumes cited are VIZ Media (en-us) editions, unless otherwise noted. Manga scenes (chapters) not yet translated cite Shueisha tankōbon (ja) editions. Manga scenes not yet published in tankōbon form cite Jump SQ (ja) editions. Fragments of Silver Omnibus (総集編 銀の断章 Gin no Danshou) 1–3, Shueisha, are only available in Japanese. Anime scenes (episodes) cited are FUNimation (en-us) editions, unless otherwise noted.
Community content is available under
CC-BY-SA
unless otherwise noted.